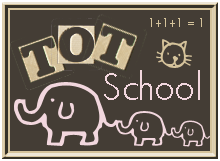 Tot School
This week in tot school we have been talking about all sorts of different balls, colors, animals and the noises they make.
Our favorite book for animals is My Big Animal Book by Roger Piddy.
Travis is learning the difference between all types of balls. Such as baseball, basketball, soccer ball, and football. I believe baseball is his favorite. I only say this because he says baseball all the time and at his Daddy's softball game he went crazy! He would go into the dug out and steal the bats and balls that were laying around and say "I pay bayball." So cute!
We also have used an ice cube tray and put goldfish crackers into it for Travis. He enjoys taking them in and out, eating them, and even dumping the entire tray over and watching the goldfish go all over the floor and say "UHHH OHHHHH!"
Happy Homeschooling
Jackie